top
The structure of our community
The media weapon community will consist of:
1. a core of activists who understand and agree with our mission statement and program of action and who work in a principled and consistent manner to carry it out, and
2. a periphery of activists or interested people who find the work of our community to be interesting (or to have potential to oppose reaction or contribute to a progressive agenda) and want to learn about our principles and methods and help us with our work.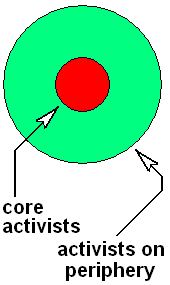 Activists become part of the periphery of our community by joining one of our email lists and participating in the life of the list.
Core activists will have the right to vote on the most important matters related to the development of the community. Activists on the periphery will have "voice but no vote" and will help guide decisions of the core activists thru public feedback, questions and criticism.
At present the mission statement has not yet been discussed, debated or adopted and the "core" group of activists is non-existent. Nor has the community yet proven itself to be anything more than an email discussion list. However, if a mission statement and program of action can eventually be adopted by a group of activists--and a core of activists emerges which is determined to carry it out--this would represent a significant step forward for the development of a healthy revolutionary mass movement. It is my hope to see such a core of activists emerge--whether this emergence takes place this year or sometime later in this decade.
Ben Seattle
----//-// 29.may.2004
top
Our communication system
The media weapon community carries out discussion and debate using email lists and a wiki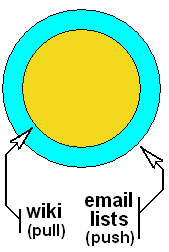 (ie: a collaboration tool that makes it easy for a group of people to jointly create, edit and link a system of web pages) which, respectively, comprise the "push" and "pull" components of our communications system.

Currently, our main email list is pof-200. Our wiki can be seen here. (Our wiki is in the middle of being redesigned -- but it is currently functioning.)
---
top
We need your help
Obviously any small community such as ours can only play a limited role in the overthrow of bourgeois rule, a task that will require the coordinated actions of many millions.
We will do the best we can with the resources that we have. And we need your help.
• Link to us from your website or blog!
• Join our pof-200 discussion list !
• Check out (or contribute to) our wiki !
---
What do you think?
The Media Weapon community would like to hear your thoughts. Fill out the form below and let us know what you think of our proposed mission, program of action and structure.